California Eastern Laboratories and LS Research have signed an exclusive global agreement to design, manufacture, and market transceiver modules for ZigBee and other low cost, low power IEEE 802.15.4 data transmission applications.
Based on Freescale's MC13192 transceiver IC and MC9S08GT60 microprocessor, the CEL/LSR Freestar module is a fully-integrated, drop-in RF transceiver that is well suited for office and building automation applications including HVAC and lighting control, as well as security systems.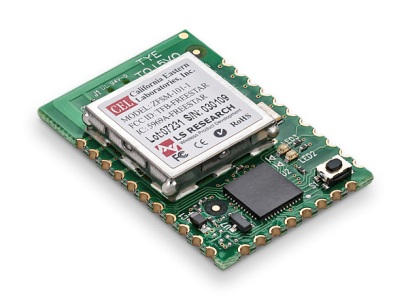 FCC, CE-certified, and RoHS compliant, the Freestar features an integrated 100mW power amplifier and provides up to 4000 feet of range line of sight. LSR has also streamlined the communications protocol, resulting in what CEL reports is the lowest power consumption in transmit mode of any module on the market.
The Freestar is the first in a series of ZigBee modules to be introduced. Additional products based on transceiver ICs from Ember and Texas Instruments will be introduced in fall 2007. Manufacturing and supply chain management of these modules will be the responsibility of CEL. The modules will be available worldwide through CEL sales offices as well as though the company's representatives and franchised distributors.